Submitted by
HeatherJ
on Thu, 09/08/2022 - 9:11am
We've seen the world, and have collectively decided that there is absolutely nothing better than attending a bookshop event and getting to listen to an author celebrate their new book brain child... or so we thought. As it turns out there IS something better: attending a bookshop event and listening to an author talk about TWO of their new books!!! Don't believe us? Then you'll just have to come on down to Little Shop on October 12th at 5:00 PM for our event with Carlie Sorosiak and see for yourself!! If you don't have the time of your life hearing Carlie talk about Always, Clementine and Books Aren't for Eating ... we won't do anything BUT that doesn't matter because you will 100%, for sure, without a doubt have a wonderful evening, so come enjoy some exciting new books! See below for more info:
Tickets:
Admission: $0 That's right, admission is free!! However, you do need to "purchase" one ticket for every person in your group (ex: a family of four needs four tickets). Register for tickets here!
You must purchase at least one book from Little Shop of Stories in order to enter the signing line.
About the Books:
Always, Clementine: Clementine is different from other mice: she can calculate the speed of light and she dreams in Latin. The scientists say she's a genius and put her through test after test. Clementine is proud of being a good lab mouse, but she's lonely. Her only snatches of friendship occur during her late-night visits with a chimpanzee named Rosie. When a compassionate lab technician frees Clementine, the mouse discovers an outside world full of wonders: Brussels sprouts, games of speed chess, television fame, and a chance for a real home. But for Clementine, it's not enough to be free when she knows that Rosie and the other mice are not. This tender, lively adventure story, narrated in letters from a mouse to a chimpanzee, shows us that goodness is something we have to define for ourselves—and that courage and wisdom aren't proportionate to size.
Books Aren't for Eating: Leopold the goat owns a delightful bookstore, and he has a talent for matching his customers with the ideal book—an adventure story for the girl in the rain boots, a novel about gnomes for the man who loves to laugh, and a book of birds for the woman in the feathered hat. But one day, another goat arrives and proceeds to eat every book Leopold offers. Can Leopold find just the right one to tempt this reluctant reader? This funny, charming tale of the transformative power of books is a celebration of that first special story that sparks a child's love of reading.
About the Author:
Hi, I'm Carlie. I write books mostly about the inner lives of animals. My work has received starred reviews from Booklist, Publishers Weekly, BookPage and Kirkus, has been translated into over a dozen languages, and is often lauded by my mother.
I grew up in North Carolina and have an American dingo (Google it!) who is my writing companion, but I don't let her type on my keyboard. Somewhere in my attic are all three of my degree certificates: one from UNC-Chapel Hill, one from Oxford, and another from City, University of London.
Event date:
Wednesday, October 12, 2022 - 5:00pm

$17.99

ISBN: 9781536228847
Availability: On Our Shelves Now
Published: Walker Books US - September 6th, 2022
From the author of I, Cosmo comes a humor-filled, heart-tugging tale of a genius mouse, secretly freed from a lab, who's in search of a real home—and a way to free her old friends.

---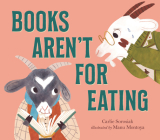 $17.99

ISBN: 9781536214963
Availability: On Our Shelves Now
Published: Walker Books US - September 20th, 2022
How can Leopold, goat and bookstore owner, find the perfect book for a fellow goat—one the visitor will enjoy reading, not munching?

---